Toews Music – Pearl River & Yamaha Pianos
Toews is the oldest family run business in Abbotsford BC and has been in the business of selling pianos (and sewing machines) since 1950!
A piano is a very versatile musical instrument capable of being played solo or in an ensemble for classical music, jazz, rock, and even modern pop songs.
Whether you have room for a grand piano or prefer something smaller like a baby grand or upright piano, our piano experts are here to help you find the right piano for your home and your musical passion.
Click here to view piano selection
or Call 604-859-1801/ 1-800-Toews-Net (863-9763)
The following offers a brief outline of the types of pianos and the brands that we carry here at Toews Music.
New and Used Pianos
At Toews Music, we believe that every home should have music and every home should have a piano. We want to help foster and maintain your musical creativity so that's why we offer both new and slightly used upright and grand pianos to accommodate almost any budget.
Piano Types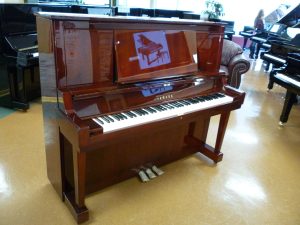 An upright piano is smaller and more affordable than a grand piano however if you wish to have that grand piano sound and look but are restricted on space, then Toews Music can also help you find a beautiful baby grand piano.
Upright Pianos – The soundboard and strings are arranged vertically in an upright piano, helping to make the instrument more compact. Upright pianos are ideal for apartments, condos and smaller homes.
Grand Pianos – The soundboard and strings are arranged horizontally in a grand or baby grand piano. A full sized grand piano (also referred to as a "concert piano") can be as long as 7 to 10 feet and produces the fullest, richest sound. A baby grand is much shorter at about 5 feet in length.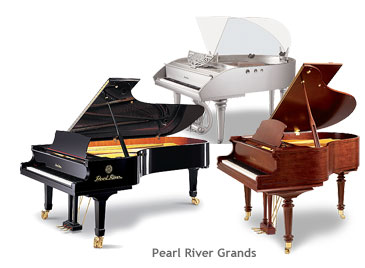 Pearl River began production of pianos in 1956. Since then, the company's production has surpassed 135,000 units per year, making it the largest manufacturer of pianos in the world. Currently it holds 25% market share of new piano sales, selling 1 in every 4 pianos in the world.
Toews Music originally began selling Pearl River in 1999 and has watched first hand the company's growth in production as well as its development into one of the finest world class pianos manufacturers. Come in and experience why Pearl River has become the number 1 selling piano in the world.
Piano Tuning
Toews Music also provides professional piano tuning by our resident house piano technician Lawrence Toews. Lawrence has nearly three decades of piano tuning experience and tunes pianos for residents throughout the Fraser Valley and other Vancouver Lower Mainland communities.
Contact Toews Music
We love pianos! And we love to talk pianos!
We invite you to come to our showroom at 2518A Clearbrook Road in Abbotsford BC, just outside of Vancouver, Canada, so we can show you first hand, the quality and the amazing sound of our new Pearl River pianos, plus our pre-owned, gently used, factory refurbished Yamaha pianos.
Call: 604-859-1801/ 1-800-Toews-Net (863-9763)