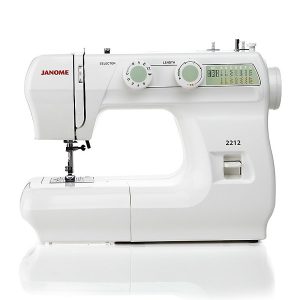 Need a quality machine at an affordable price? The Janome 2212 might be the one for you. This entry-level model boasts 12 different built-in stitches and even a four-step buttonhole. This easy-to-use mechanical machine comes with a dial pattern selector. Stitch width and length adjustment assure prime, user-friendly operation. The Janome 2212 is armed with incredible features, like a free arm and drop feed, which make this versatile machine for all types of sewing projects. The Janome 2212 is lightweight, practical, and affordable—the perfect machine for sewing novices and experts alike.
The Janome 2212 is a wonderful machine. It has all the capabilities you need to get your job done right, and you can't beat its price! 
This machine is suited for both new sewists and sewing enthusiasts. It has 12 built-in stitches and a four-step buttonhole. It also allows you to control stitch width and pattern selection with a simple dial located on the machine. 
More advanced features include: free arm, drop feed, built-in thread cutter and snap on presser feet. 
Look no further! The Janome 2212 is the machine for you! 
Features
Unique features of the Janome 2212 include:
12 built-in stitches

4-step buttonhole

4 mm maximum stitch length
Zigzag width adjustment to 5 mm maximum zigzag width
More features are:
Free arm / flat bed convertible bed

Drop feed with slide lever

3-piece feed dog

Snap on presser foot

Dial pattern selection

Manual tension control

Push-pull bobbin winder

Vertical oscillating hook

Vertical retractable spool pin

Face plate thread cutter

Slit-type thread take up lever

Pre-printed screen on the front panel.

Folding carrying handle

Skeleton body construction
Machine specifications are as follows:
Weight of machine – 13.22lbs

Machine dimensions:

width -14.09 inches

height -11.57 inches

length – 5.90 inches
Standard Accessories:
Needles

3 Bobbins

Feet: Blind hem Foot G; H Foot; Sliding Buttonhole Foot B; Zipper Foot E.

Foot Controller with Cords

Seam Ripper

Instruction Manual