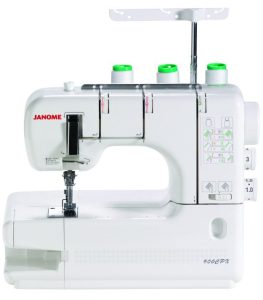 This cover stitch machine boasts a lengthy list of handy features. The CoverPro 900CPX comes armed with an extra wide bed space and free arm components that make it capable of completing a diverse body of work. A quick reference chart can be found on the front of the machine to help you choose the perfect stitch, and stitch settings, without having to dig out the manual. The exclusive Seam Tightening System (STS) lessens slack in the looper thread, guaranteeing taut and sturdy stitches in various kinds of fabric. You'll love what you can create with the Janome 900CPX—and you'll love how easy it feels even more!
At one time, only high-end sergers had cover hem capabilities. Not anymore! The Janome CoverPro 900CPX was designed to bring these capabilities to the home sewist. The machine guarantees professionalism in both cover and chain stitching. All, of course, at a reasonable price!
The CoverPro 900CPX has a variety of features. It is able to do double needle cover stitching up to 5 millimeters in width at 1,000 stitches per minute. Fast, easy and affordable are just some of its excellent traits.
Overview:

User friendly
The CoverPro 900CPX was designed like a typical sewing machine. Therefore, several features are similar like the full-size sewing bed, free-arm, vertical needle drop and one-hand thread cutter.

Cover Stitch
You probably have seen cover stitching on your clothes, but may not know what exactly it is. Well, a cover stitch is like a serger stitch, that is done without cutting the fabric being sewn. It is used to finish the ends of clothing, like hems or cuffs. Usually, you will see two lines of stitching with looped thread connecting the two lines, this is a double-needle cover stitch.
 The double stitch can be used on delicate and difficult materials. The CoverPro can work on anything from knits to costumes. It is versatile, heavy-duty and so easy to use. Get yours today!
Seam Tightening System (STS)
Adjusting tensions is easy with the STS. It uses a spring to provide either tight, flat stitches or looser stitches as required. You also have full control with your regular tension dials, to fine tune for the perfect stitch.
 
Extra Large Bed
The available sewing space is around 4 inches x 5.5 inches (100mm x 143mm). This ensures that you can perform cover stitching anywhere on the garment, even towards the middle. This is a very convenient, useful feature for many projects.

Quick Reference Chart
The machine has a quick reference chart, and color guide displayed on the front of the machine. This reminds the user of the available stitches and corresponding tension settings.
 Threading System
The threading system on the CoverPro is the easiest on the market. Its upper needle system is color coded, and its lower looper is even simpler.
Specifications
This machine can do the following:
Maximum speed of 1,000 stitches per minute

Stitch length range from 1 – 4 millimeters

Maximum stitch width of 5 millimeters
More Features
Free Arm

Seam Tightening System (STS)

1 needle – 2 thread chain stitch

2 needle – 3 thread cover stitch

Differential feed ratio of 0.5 to 2.25

Extra large bed

Vertical needle drop

Foot pressure adjustment

Quick reference sticker for stitch selection

Soft cover included
Standard Accessories
When you purchase this amazing machine, you also receive:
Needles: 2 X #80/12; 3 X #90/14

Needle threader

Spool holder caps

Nets

Attachment screws (for fixing optional accessories)

Screwdrivers: small; large

Tweezers

Lint brush

Accessory box