Janome Memory Craft Horizon MC12000
There's always a new project on the horizon for sewing lovers, especially when they use a computerized sewing machine like the Janome Horizon Memory Craft 12000. The creative journey never ends with this amazing computerized sewing and embroidery machine. Use your new Janome MC12000 to create sewing and embroidery designs on your laptop and desktop PC anywhere, anytime. All you need to do is connect to your Janome 12000 and start it up! Only Janome could provide you with this brilliant blend of accessibility, functionality, and advanced technology. The Janome MC12000 is intuitive, smarter, and just plain fun. It's even a quilting machine!
Regardless of your passion, be it embroidery, home décor, garments, quilting, or a mixture of them all, the MC12000 will let your love of the craft soar to new heights. With effortless use and powerful tools, deadlines won't stand a chance. Stitch the days away, loving every stitch. This machine is an amazing blend of user-friendly tools and advanced technology—a sterling example of the quality that Janome is famous for. The MC12000 gives you all the functionality necessary to get the most out of your machine, helping you with capabilities that are smarter, intuitive, and just plain fun.
Product Features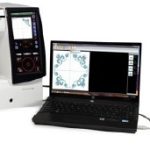 Advanced PC Connection -­ Horizon Link
It seems that every time a new embroidery machine comes out, that pesky touchscreen seems to take up more and more space, but Janome had a better solution. Not only does this machine have a screen for easy on-screen editing, you can even link up your computer for a complete interface and the smooth control of your mouse. This will give you a larger view, if you want it, and the Horizon Link software will even let you do all your editing right on your PC. If that's not your style, use Horizon Link with your Windows tablet to edit your designs. Because Horizon Link makes all your changes in real time, you don't even have to transfer the new version to your machine.   
New JPX design format
Save your embroidery designs in the all new JPX file format, so your machine can read the graphic data and tweak your designs for flawless iron-on transfers. When creating your own files, use digitizer MBX and use Horizon Link to send them to the machine.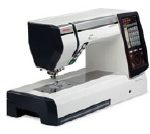 11 Inches to the Right of the Needle
With an incredible 11 inches on the right of the needle, you'll find that this is the largest workspace you've ever seen. It's great for home décor, quilting, or any projects that require tons of added space. This machine has the room for a larger hoop, but the extra space doesn't mean you won't get Janome's famous reliability and precision! In addition to the space, the bed is equipped with a 15-inch plate made of stainless steel, marked with handy measurements.   
.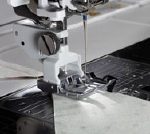 AcuFeed Flex
The acclaimed AcuFeed Layered Fabric Feeding system is a legend in the sewing and quilting industry for packing a serious punch. Believe it or not, the MC12000 has managed to improve it. The system is now removable. If you aren't using it, it'll fit right in one of the accessory trays! Removal and attachment is practically effortless. With two prongs, it flawlessly feeds fabric from top to bottom. Use it on all your projects from quilting to traditional sewing to seaming. A special one-pronged style offers even more control if your work is more detailed, or you need matching seams or have to install a zipper.   
Create and edit your stitches right on your computer with the stitch composer. With 30 different stitches, you'll have a truly unique experience with every design you make. Pick stitches to modify from the library and save it as a brand new stitch, or create your own with the easy-to-use dot drawing tool. Set lock stitches at the start and finish. Flip your patterns vertical and horizontal, and determine your needle position. Get more creative control than ever before.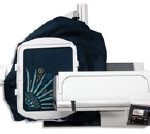 Introducing the Linear Motion Embroidery System
Slip the Linear Motion Embroidery System to the back of your machine for even more space and even more accuracy. It's so compact that you can even leave it on for regular sewing. This clever machine is the only home machine offering free-arm embroidery, and it's exclusive to Janome. The MC12000 can embroider at speeds of an impressive 1000 stitches per minute, and with incredible stability, you'll be able to maintain this speed across hoops ranging to 9.1 inches x 11.8 inches without sacrificing precise stitches.
After each thread cut, the auto presser foot lift will automatically life your presser foot. This great feature will let you keep your hands on the project the whole time, and you can set it to raise at the end of any seam, even with the needle down for easy turning. This feature alone will make the sewing process easier than every before, as it eliminates manual steps to save you time.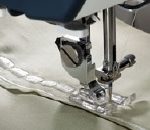 9mm Zig Zag
The MC12000 also comes with the ability to increase your stitch width all the way to 9mm, letting your decorative stitches be as bright and bold as you want them to be. Stitching will be quicker and more distinct, which is a great time-saver for any sewer. Almost all of the 425 available stitches on your machine can expand up to 9mm in width, and you'll get twenty new feet designed just for this expansion!
Using lightweight fabrics and piecing quilts requires a specific set of tools, and a straight stitch needle plate is just what the doctor ordered. With Janome's one-step plate converter, you can swap plates in a cinch. Just a press of a button will release a plate, and all you need to do is snap a new one in. You don't even need to whip out the screwdriver! The machine is equipped with a handy sensor that will only let you use a straight stitch when the straight stitch needle plate is in, so breaking a needle will be a thing of the past. Both plates come in the standard accessories package.
Free Motion Quilter is Freer Than Ever
Make free motion quilting easy with endless decorative options, automatic features, and precision stitches. Customize important components like your foot height and save your settings the machine's memory bank. If that's not your style, you can let the auto pressure height make the adjustments for you.
10 LED lights placed in five separate locations will really light up your workspace. Really brighten things up with the retractable High Light, which can reach right beneath your needle. If the view still isn't good enough, get a close up with the attachable Acuview Magnifier.
Bobbin Thread Sensor
When you're working on a large project, the bobbin thread might be the last thing you're paying attention to, but you don't have to worry about running out anymore with the new bobbin thread sensor. It will alert you when the thread is running low, so it will never catch you by surprise in the middle of work. This advanced system can be set for different levels of sensitivity, adjustable depending on the size of your project. It's also great for working with various thread thicknesses. Increase it for thick threads, and decrease it for thin ones.
Get four different hoops and endless new capabilities with the expanded embroidery area.
FA10 Free Arm Hoop
For an elongated shape, use the FA10 Free Arm Hoop—3.9 inches x 1.6 inches (100 x 40mm). This is a great size for embroidering in tight places like sleeves or cuffs. Embellishment is a breeze with this hoop—even on ready-made items!
SQ14 Standard Square Hoop 
The SQ14 Hoop measures in at 5.5 inches square and is the perfect size for most designs. To get the most out of this hoop, keep your design close to the size of the hoop to keep the fabric from flexing as the needle moves.  
SQ23 Big Square Hoop
Use the SQ23 Hoop to quilt directly in the hoop. It's just the right size for large, square designs, measuring it at 9.1 inches. You'll find this hoop is the perfect for quilt squares, and it comes with magnetic clasps to make hooping easier and make your results even more accurate, even moving from square to square.
The massive GR "Grande" Hoop comes in at 11.8 inches x 9.1 inches and lets you stitch the largest designs of your life without sacrificing your stitch quality. In fact, it's even more precise. Your machine will come outfitted with tons of designs made specifically for this giant hoop, but your creativity will be running wild in no time with this much space at your disposal. This hoop, too, comes with magnetic clasps for easier, faster hooping.