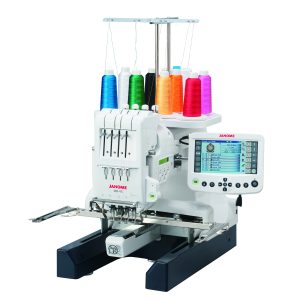 Janome MB-4 Four Needle Embroidery Machine
The Janome MB-4 four needle embroidery machine is a revolutionary first home use, industrial, embroidery machine. You can utilize this machine for any of your embroidery projects. It has four needles so it has four times the capacity of a regular embroidery machine and can stitch with four different colors at one time. The MB-4 can be used with most embroidery formats, industry-standard Tajima hoops and Janome hoops.
Overview
The Janome MB-4 has a remote computer screen (RCS), which allows you to edit your designs easily and quickly, with over 65,536 colors to choose from. There is also 3 MB of memory so you can store your designs in the machine.
You can also use the machine without the controller since it has a built-in sub-controller. And there are USB capabilities so you can easily transfer your embroidery designs to the machine.
This LED provides sufficient light for all projects.
Time saving and hassle free, the thread cutter automatically cuts jump threads.
The bobbin winding motor allows you to save time as it can wind bobbins at any time, even while stitching a design.
This machine can use standard hoops like the Tajima hoops as well as the provided MB-4 hoops.
Full List of Features
The Janome MB-4 can do:
50 built-in designs

10 fonts

2 and 3 letter monogramming

Maximum speed of 800 stitches per minute

Low range speed up to 400 stitches per minute

Bobbin winding speed of 2,000 revs per minute

Embroidery speed up to 800 stitches per minute
More:
Single head 4-needle

Spool stand (including 1 for bobbin thread and 4 additional spool)

Built-in auto thread cutter for needle & bobbin threads

Upper thread breakage sensor

Embroidery design resize 80% – 120% by 1%

Upper thread holder spring on the face plate

Rotate in 1 and 90 degree increments (clockwise / counter clockwise)

Flip vertically and horizontally

3 Hoops

Embroidery area tracing

Stitch-out time indicator

Stitch Counter

Upper thread and presser foot sensors

Manual thread tension control

Ball bearing precision

DB rotary hook (full rotary)

Independent bobbin winding (with independent start button)

Embroidery format compatibility: (Janome) & DSL (Tajima)

Drag and drop editing for easy placement

Backlit LCD screen

Control keys: 2 Mode keys; OK key; 4 Jog-keys; forward / reverse stitch keys; manual thread cutting key; start/stop key (on remote computer screen and sub-control panel)

Resumption setting / My Set (with Remote Computer Screen)

Screen (option) or Sub-Control Panel

Sub-Control Panel: LCD with backlight (H12 x W63mm)

USB memory key compatible

Direct PC link

ATA PC card port and USB port (Host) on RCS

USB port on MB-4

Expanded built-in memory

Compatible with Janome software

My SET screen controls for contrast, in/cm, designation and other customization

Zoom in and out

Multi-language selection

Cylinder shape of bed

White LED

2 sewing lamp

DC motor

Skeleton (clam shell) body construction
Machine Specifications
Machine width: 450millimeters
Machine height: 440 millimeters
Machine length: 520 millimeters
Machine weight: 20.5 kg
Package width: 450 millimeters
Package height: 620 millimeters
Package length: 660 millimeters
Total weight: 29 kg
Standard Accessories
Standard accessories include:
Needle (DB x K5Q1-NY #11)

Bobbins

Needle threader

Felt Ring: small; large

Hoop M1 (240 x 200)

Hoop M2 (126 x 110)

Hoop M3 (50 x 50)

Hoop supporter

Spool caps

Spool net

Spool pin

Spool rest

Spool stand

Thread guide bar and pole

Thread guide pole

Screwdriver: small; large; offset

Setscrew

Tweezers

Scissors

Seam ripper

Lint brush

Accessory box

Oiler

Power supply cable

Instruction book and CD-ROM