Janome Horizon Memory Craft 7700
The Janome Horizon Memory Craft 7700QCP is a quilter's new best friend. This computerized quilting and embroidery machine provides functionality, incredible precision, and Janome's famed level of accessibility, making this sewing machine model a dream come true. The Janome MC 7700qcp is eye catching from the 11" throat opening to the 10" free arm. The Janome 7700qcp tackles your large, bulky projects with ease. Say goodbye to the hassle of sewing cuffs and pant legs—the Janome 7700qcp has you covered. This machine is also equipped with shadow-free lighting, a jog dial for fast and efficient stitch selections, spacious storage compartments, a backlit LCD touch screen, a large extension table, and a cloth guide, but that's only the beginning of this machine's components. Let the Janome 7700qcp take the fuss out of your projects.
This machine is modeled after the ever-popular Janome Memory Craft model—the 6600P. They've taken everything you love about it and gave it a makeover—including all the features sewists wised it had (plus a couple bonuses). What's the end result? A machine to be desired by anyone and everyone across the sewing world!
This machine exudes excellence inside and out. With superior engineering, you'll get technological innovations like never before, not to mention a quality exterior and internal integrity. Built on a cast metal frame, you'll never have to worry about this sturdy machine not passing the test. This design is unique in the sewing market and gives you a machine a cut above the rest. Janome always ensures superior quality, stability included.
This dream machine boasts a slew of awe-inspiring features like:

a free arm 

an automatic plate cover for straight stitches 

11 inches of work space 

250 available stitches

the Accufeed system

speeds of up to 1,000 spm 

a crystal clear LCD touchscreen 

the Superior Plus Feed System

and five LED lamps to brighten up your work area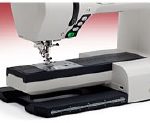 Foot Long Free Arm
Use the longest free arm ever on a Janome machine for your large projects.
11-­inch x 4.7-­inch Work Area
With an 11 inch x 4.7 inch work are, you'll have the space you need for window treatments, slipcovers, and big quilts.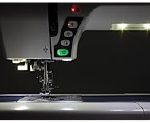 Shadow-­Free Sewing
Cast out the shadows with your five ultra-bright LED lights, placed strategically in three different locations on your machine.
Reduce the strain on your eyes with great lighting and sew for hours on end without even a hint of fatigue!
Double Accessory Bins Plus Upper Storage
Stow all you accessories away in the double accessory bins. If that's not enough, stash some in the upper storage!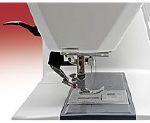 AcuFeed System
Feed your fabric in perfect time from top to bottom with the AcuFeed system.
Get flawless results on everything from delicate heirloom fabric to thick layers of quilt.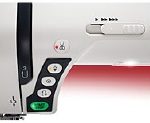 Sew Up To 1,000 Stitches Per Minute.
Sew at lightning speeds (up to 1,000 spm!) with stunning precision. Get speed without sacrificing quality or control,
and use the slow start/stop button for more ornate works that need more control.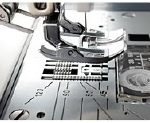 Superior Plus Feed System
Puckering, shifting, and slipping are a thing of the past with the SFS+ system—a Janome exclusive.
It operates as a combination of 7-piece feed dogs and a patented cam mechanism to keep your fabric even as it moves.
This quality has always been a Janome Memory Craft standard, and it continues onto the JNH MC7700.
Automatic Plate Converter (APC)
Get the most precise straight stitches you've ever seen with the automatic plate converter.
Operating over three main straight stitch options, the APC creates one round needle hole.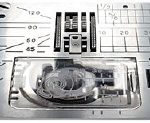 Innovative, Patented Needle Plate Markings
This machine will give you more of what you love: needle drops, cornering guides, seam lines, and angles.
Complex measuring is a cinch right below the needle.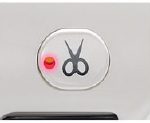 Automatic Programmable Thread Cutter
Program the automatic thread cutter to trim your tails at lengths less than half an inch.
It'll even pull your thread to the back when it's done.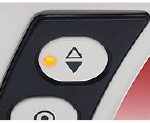 Memorized Needle Up / Down
Let the memorized needle up/down feature to save you time between seams.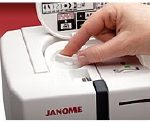 Extra Foot Pressure
Adequate force on the presser foot is vital to keep your fabric from slipping, which is why the 7700
supplies you with an incredible seven levels of professional-grade foot pressure to select from.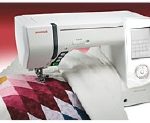 Rigid, Die-­Cast Aluminum Body
The die-cast aluminum body ensures you stability, even when sewing at maximum speeds.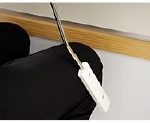 Adjustable Knee Lifter Is Standard
Some projects require you to keep your hands on your fabric at all times. With the handy knee lift component,
you can use your knee to raise the presser foot. Use the handle to adjust the position to where you're most comfortable.
Extra High Presser Foot Lifter
Make room for even more layers of fabric with the extra high presser foot lifter.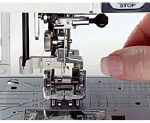 Built-­in Needle Threader
Threading the needle is as easy as pushing a button with the built-in needle threader.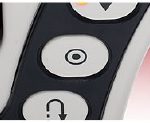 Lockstitch Key For Perfect Finishing
Program auto thread tie-offs into your stitch combinations with your lockstitch key.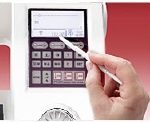 High Visibility LCD Touchscreen With Stylus
Navigate your brilliant LCD touchscreen with a stylus or your finger.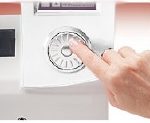 Tactile Jog Dial
Spin backward and forward through your tactile jog dial to browse your stitch options.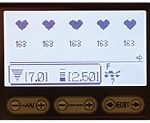 250 Stitches To Play With
Let your imagination run wild with more than 250 stitches at your disposal—11 of which are buttonholes
and 3 of which are alphabets. Categorized for easy reference, you'll find the stitches classed in 11 easy-to-find groups like Quilt,
Pictograph, Applique, Heirloom. And Play as well as others like hand-look quilting, (new) ribbon border stitches, and candlewicking.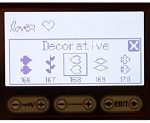 Save Your Stitches In Twenty Memory Banks
Save unique and customized stitch combinations up to 50 characters long right on your machine for easy use.
Start and finish them with pre-programmed lockstitches. With twenty memory storage banks, you'll have more than
enough room for all the stitches. Pull your designs up with the simple touch of a button.
Pattern Stitch Length Calculation
Use the on-screen calculator to size your stitch patterns to fit any space.
Super Stable Extension Table Is Optional
Get the support you've always craved with the optional super stable extension table. It fits cozy around your machine,
and the table is great for extra large projects. All feet are placed near the edge for added stability.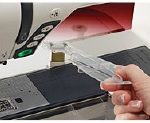 Exact Seams Without Measuring
Make exact seams easier by using the optional manual Cloth Guide to help measure your seam width
for you. You can attach it to a track located at the back of the bed, and it is outfitted with handy scales and ruler markings
the stretch all the way to the arm. It even fits with the extra wide table (optional accessory).
Janome 7700 Included Accessories:
•  1/4 inch seam foot O
•  Automatic buttonhole foot R
•  Blind hem foot G
•  Border guide foot
•  Button sewing foot T
•  Convertible free motion quilting foot QB-­H
•  Cording foot H
•  Dual feed foot AD
•  Open toe satin stitch foot F2
•  Overcasting foot C
•  Overedge foot M
•  Rolled hem foot D
•  Satin stitch foot F
•  Zipper foot E
•  Zig zag foot A