Industrial Sewing Machines
Toews has been selling sewing machines and sergers since 1950! We also sell Reliable Brand Industrial Sewing Machines at Toews Sewing.
What Are Industrial Sewing Machines?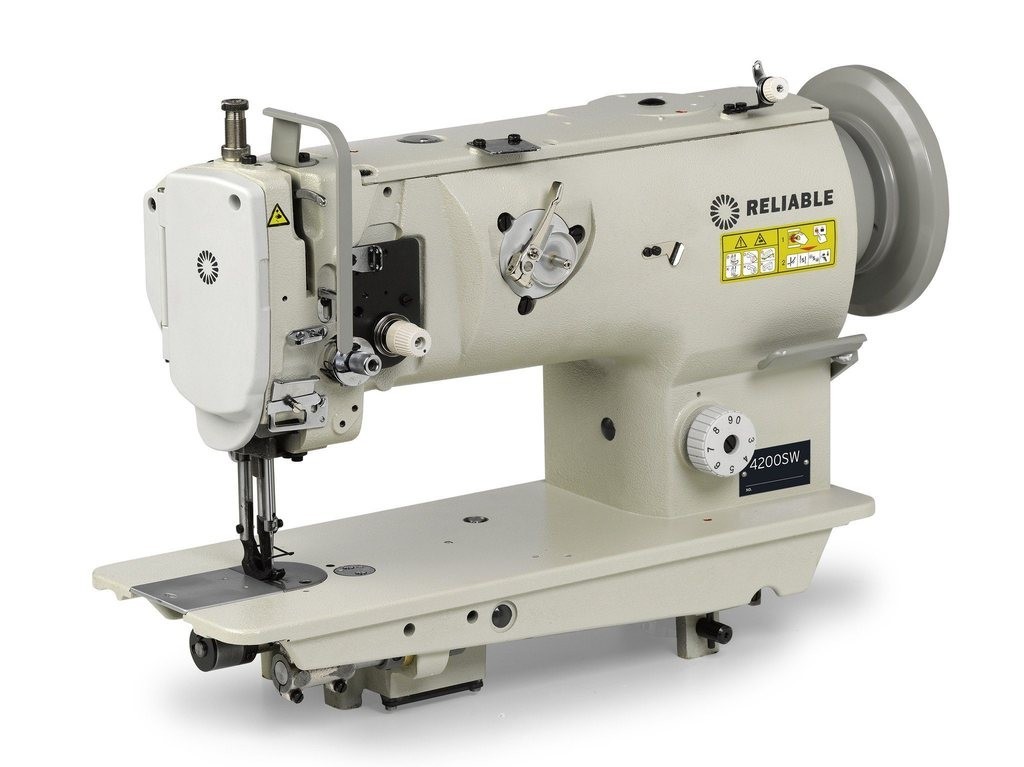 Typically, an industrial sewing machine is intended for factory or commercial use and used by people who work in assembly lines on specific tasks with consistent material.
Unlike standard home sewing machines, industrial textile sewing machines are:
Larger
Faster
More Complex
More Varied in Size & Appearance
Higher in Price
Often Task Specific
An industrial sewing machine may not be versatile, but it is excellent at performing a specific sewing task, which can be specific to the material, fabric weight or a particular sewing requirement. For instance, you would use a different industrial sewing machine to sew a waistband on a pair of denim jeans than you would to sew a silk bra.
For more info contact
Toews Industrial Sewing Machine Sales
or Call 604-859-1801
Sewing Machines with More Power!
Industrial sewing machines are designed to make money, running full tilt with the pedal-to-the-metal to crank out thousands of pieces a day.
Accordingly, industrial textile sewing machines have powerful motors, thicker shafts, stronger bearings, and beefier gears. Most sewing machines for industrial use have a ½ or ¾ horsepower motor, whereas your household sewing machine motor is not measured in horsepower but in amps (a unit of electric current).
Sewing Machine Feed Systems!
Industrial sewing machines also feed the fabric through the machine quite differently from the way a home sewing machine would.
Needle Feed
Some industrial machines will have a Needle Feed, which is used only in industrial sewing machines. The needle feed moves the material along while the needle is in the material. The advantage of the needle feed system is that multiple layers of material, especially slippery material, will not slide with respect to one another because the needle holds all the layers together while the feed action takes place.
Walking Foot Feed
A Walking Foot Feed replaces the regular presser foot with one that moves along with the feed dogs. As the walking foot moves, it moves the material along with it. This is most useful for sewing heavy material and for sewing multiple layers of material together.
Compound Feed
Compound Feed is a combination of needle feed and walking foot feed where the needle moves the material together with the walking foot. Compound feed industrial sewing machines are used mostly for projects such as auto upholstery, awnings and sales materials.
Regular or Drop Feed
Regular Feed, which is also known as drop feed is the most common feed system and one that incorporates a feed dog, which is a mechanical surface with teeth that helps to transport the material by dropping and then raising under the material.
Reliable Industrial Sewing Machine Models
Toews line of industrial sewing machines by Reliable includes:
Reliable 3100SD, which features the drop feed system making it ideal for garment production.
Reliable 4200SW, which features the compound feed system making it perfect for upholstery of any kind.
Reliable Barracuda zig-zag and straight stitch portable walking- foot machine
Reliable 2200SZ light- to medium-duty zig-zag and straight sewing used in homes, schools, & industrial applications
Reliable 5400SO, which is an industrial Serger / overlock sewing machine used specifically for finishing the raw edge of material to prevent fraying.
Buy a Reliable Industrial Sewing Machine from Toews
Toews offers sewing enthusiasts the absolute best possible pricing on Reliable industrial sewing machines. To learn more about Toews, a family owned sewing machine dealer located just outside of Vancouver BC Canada, contact our Toews sewing machine sales experts:
Call:
604-859-1801