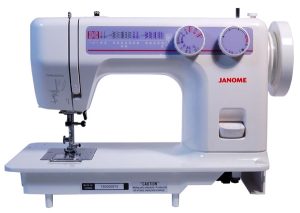 The Janome 712T machine is designed to sew without any electrical power. Made for a true Do-It-Yourself type, this machine comes with 10 utility stitches and a built-in buttonhole stitch. The flatbed design is sure to fit your existing sewing cabinetry. In order to run this machine, a treadle operated sewing table is required. This must be purchased separately and is not included with the machine.
The Janome 712T Treadle powered sewing machine is unique in so many ways. It does not require electricity to operate. Unique indeed! It was actually designed for the Amish community; where little technology is preferred. But you don't need to be Amish to love this machine. 
The 712T features 10 utility stitches and a one 4-step buttonhole. Threading the machine is done easily, since the thread guide is clearly printed on the machine. Changing the bobbin is done quickly, and easily with the top loading bobbin. 
The power of the Janome 712T comes from your feet. Usually, it is mounted onto a treadle cabinet and your feet do the work. Note, however, the treadle cabinet is not included when buying this machine.
Overview:
This type of design ensures the sewing machine can be easily added to existing cabinets or treadle operated sewing tables.
With this feature, the bobbins are accessible and simple to change.
No need to keep referring to the instruction manual. This threading guide is always there as a reference when changing top and bobbin threads.
This truly is a unique feature of this machine. There are no power cables or cords or electricity required to sew.
Full list
10 utility stitches

1 built-in buttonhole stitch

Flatbed design to fit existing (and required) cabinetry or table

Top loading bobbin system

Threading guide

Non-electric