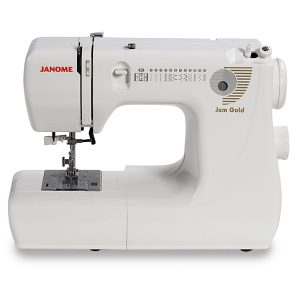 Need to sew on the go? Convenience and compact mobility merge to create the Janome Jem Gold 660. Quality features like a horizontal, full-rotary hook and a jam-proof, drop-in bobbin ensure a reliable and secure experience. Handy add-ons include a one-handed thread cutter, quick foot conversion, an integrated needle threader, and safeguarded needle insertion. Weighing in at twelve pounds, this machine comes with 8 stitches—2 stretch stitches and a built-in buttonhole. The Jem Gold 660 is built with Janome's usual high-standard quality and durability, making this ¾-size machine a marvelous choice for a beginner or quilting classes.
12-Stitch Compact Lightweight Sewing & Quilting Machine
The Janome Jem Gold 660 is lightweight and compact sewing and quilting machine. It comes with a built-in needle threader and a drop in bobbin which means jam proof for its users. It is has 8 stitches, which includes 2 stretch stitches and a built-in buttonhole. Due to its light weight (12lbs), the Janome Jem Gold 660 is ideal for taking to classes or to with you on holidays. It is a very durable machine which makes it perfect for the beginning sewer or the experienced.
Overview
Threading
This machine has a built-in needle threader which makes threading the machine easy, efficient and without straining your eyes.
Magnetic Type Horizontal Full Rotary Hook
The rotary hook system in this machine is advanced. It is jam proof, top loading and full rotary. With these features all your stitches will be flawless no matter what the material you are working with. This system also lets you insert your bobbins quickly and easily. And the cover is transparent so you can always have an idea of how much thread you have left.
Foot Conversion
With one button, you can effortlessly remove the foot. To attach another foot, simply lower the foot lifter until the new foot snaps on.
One Hand Thread Cutter
Easily cut those thread tails with one swift motion.
Dials
This machine has a full rotary pattern selector dial and a tension dial. The pattern selector lets you choose the stitch you want. And the tension dial helps with threading.
Additional Features
Extension Table and Free Arm
These features ensure you have a spacious sewing space. And the table allows you to neatly store and hideaway all your sewing accessories.
Easy Stitch Selection Using the Rotary Selector Dial
Zigzag stitch patterns
Straight stitch
Buttonhole stitch
Presser Foot Lifter.
Very accessible so moving the presser foot up and down is done easily.
Concealed Tension Dial.
Controlled with your fingertip and easy threading.
Needle Insertion Device
This ensures that you insert the needle correctly every time.
Reverse Stitch Lever.
Located on the front panel of the machine, so you can easily reverse your stitch.
[wppg_photo_gallery id="13″]
Full Details
This machine can do:
9 stitches including buttonhole

4-step buttonhole

Maximum zigzag width of 5 mm

Maximum stitch length of 4 mm
More features are:
Free arm

Needle threader

Snap-on presser foot.

Extra-high presser foot lift

Foot controller

Thread cutter

Marking on needle plate (inches and metric)

Lay-in thread tension control

Slit thread take up lever

Automatic declutch bobbin winder

Magnetic type full rotary hook

Horizontal spool pin

Lamp

Power switch

Skeleton body construction
Standard Accessories
The Janome Jem Gold 660 comes with:
Needles

3 bobbins

Feet: overedge foot C; transparent buttonhole foot B; zigzag Foot A

Spool holder: small; large

Seam ripper

Screwdriver